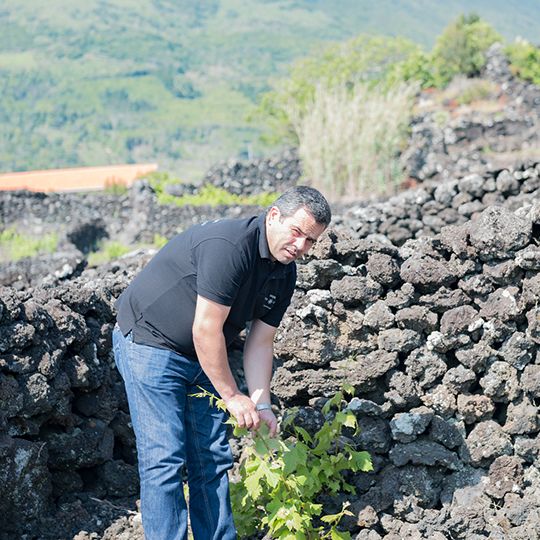 Paulo Machado
Paulo Machado, founding partner of the Azores Wine Company, was born on the island of Pico in 1974, and is the fourth generation of a family with a deep connection to the culture of vines and wine on the island of Pico. He studied Agricultural Engineering at the University of the Azores and did a Post-Graduation in Oenology at the School of Biotechnology of the Catholic University in Porto. In 2006 he founded the company Insula Vinus, with the aim of producing and marketing wines from the Azores.
The viticulture and oenology project has grown with its own vineyards and a small winemaking facility. From early on, he sought to do things his own way, seeking further knowledge in the world of wine and vineyards.
He took part in various initiatives held in the Azores, and deepened his friendship with Filipe Rocha and António Maçanita, with whom, in 2013, the opportunity arose to work in partnership. The Insula Private Selection and the first Arinto dos Açores by António Maçanita, still under Fitapreta's Signature Series, are launched on the market. Two special editions that mark the beginning of a new era in Pico wines.
Insula currently maintains its winemaking and service provision activities, and until 2019 it was on its premises that the wines of the Azores Wine Company project were produced. Paulo Machado is in charge of the enormous responsibility of working on site on the recovery and conservation of the vineyards in "currais" (traditional dry-stone walls), their planting and maintenance, transforming the landscape to contribute to the return of the economy and culture of Azores wines and the indigenous varieties of the Azores region, always maintaining the focus on the historical wines of Pico Island.