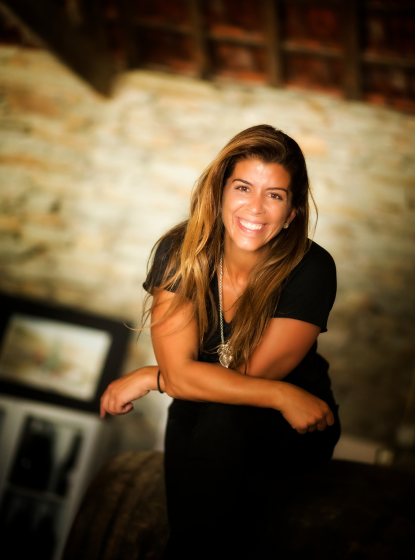 />
Joana Maçanita
The winemaker Joana Maçanita is an agronomist by training, but a winemaker by profession, having graduated from the ISA in Agronomy and worked during her studies in different wineries in Portugal.
Joana Maçanita's perseverance and involvement in her projects have borne foreseeable fruit. From the Algarve, with the resurgence of once forgotten Algarve wines and their national and international recognition, with consecutive years of gold medals at the International Wine Challenge and Concours Mondial de Bruxelles. She has also invested in indigenous grape varieties such as the red variety Negra Mole and the white variety Crato, revealing the region's full potential without fear of criticism or dislike of the so-called less noble variety in the Algarve.
In the Douro, Joana Maçanita, with the Mãos project, has created 15 notable wines in five years, which distinctively travel from a 100% Tinta Roriz red wine at 700 metres altitude to white single variety, Encruzado, Códega do Larinho, Cercial and a high altitude Moscatel with a touch of sweetness.
Winemaker Joana Maçanita's professional career began in 2004, when she joined the Vinho Preta oenology team with her brother António Maçanita.
In 2006, she travelled to Australia, settling in Mclaren Vale, where she trained at Haselgrove Winery, furthering her knowledge of white wines.
On her return to Portugal that same year, Joana Maçanita created the Wine ID company with the winemakers Cláudia Favinha and António, focusing on Oenological Consultancy. That year, she also joined the oenology team of the Arrepiado Velho and Cem Reis projects in the Alentejo.
In 2008, the winemaker is invited to be a judge at the International Wine Challenge in London and Wine Masters competition in Estoril. Joana Maçanita was also invited the following year by the Azores Tourism and Hotel School to develop an Enogastronomy project for the restaurant and bar courses.
She started working in the Douro in 2010, invited by the project Mãos e Irmãos to develop and create Mãos wines in the region.
In 2011, her wine project in the Douro was born, Maçanita Vinhos, with her brother António Maçanita.
In 2012, Joana Maçanita took over as Project Director for five wine producers in the Algarve region, Cabrita Wines, João Clara Vinhos, Edd's Quinta do Barradas, Quinta da Malaca, and later, in 2016, the producer Morgado do Quintão joined the team.
Later that year, the winemaker launched her first book "Branco ou Tinto", a clear and useful approach on how to buy, serve, taste and harmonise wine.
In 2018, she is nominated, "Young Winemaker of the Year" by Aníbal Coutinho and in 2019 nominated "Breakthrough Winemaker" by Revista de Vinhos magazine.