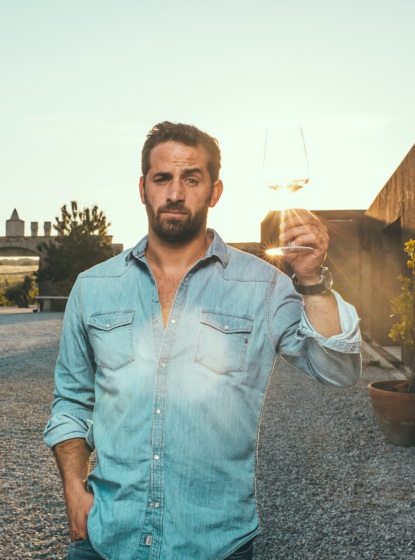 />
António Maçanita
António Maçanita made a mistake when he applied to college and was placed on the Agronomy course, after which he graduated from the Instituto Superior de Agronomia in Oenology. He tried to recover a vineyard in the Azores in 2000, but a storm destroyed it and he went on a few internships around the world: in the United States, Australia and France.
António Maçanita's first wine production project was in Alentejo in 2004, when he created Fitapreta Vinhos with winemaker David Booth, a consultant and friend who embarked on this adventure with António.
Already revealing his taste for challenges and his irreverence, António Maçanita launched Preta, his first wine with David Booth, a success that was only the beginning of his "journey" through the region. An admirer of the history of the regions and mixing the past with the present in a bottle of wine, António pioneered the production of white wine with red grapes in 2008 in Alentejo. In 2010, he sparked the production of talha wine in Portugal, with the launch of his Branco de Talha. All under the umbrella of Fitapreta, the first of four companies he created over the years, in response to challenges he was facing.
After a few years in Alentejo, still without a house or vineyard of its own, it was finally in 2016 that Fitapreta moved to the Paço do Morgado de Oliveira. The restoration of this 14th century Paço with an undeniable historical value began. Recovering another Alentejo that was lost in history, António Maçanita launched wines in 2018 from the Chão dos Eremitas vineyard, a vineyard with old Alentejo grape varieties.
At Fitapreta Vinhos, António continues to reclaim history and agitate the status quo, with his explorative, restless and provocative character.